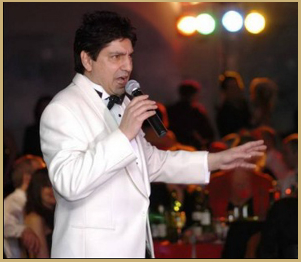 "From a lifelong Sinatra fan...
Brilliant! ...all the technique, the quality, the tone. Fantastic! What a lucky man you are."
"Just re watched our wedding video and smiled greatly when I saw your performance - totally brilliant. VERY impressed. You really are just great."
Sophie Van Brugen
(BBC Entertainment Journalist)

Frankie Roma has been singing Sinatra and Rat Pack genre songs and entertaining audiences for over twenty years. As well as the songs of Frank Sinatra, Sammy Davis Jr and Dean Martin, Frankie performs the songs of UK's Matt Monro, Nat King Cole and Tony Bennett. Plus a few of the extremely popular Michael Bublé.


Frankie has recently performed on long haul luxury cruise ships as well as in Las Vegas, the UK, Spain, Germany and has had five sell-out concert trips to perform with two 26 piece Swing orchestras in Southern Italy in 2010!
Listen now to Frankie's full demo tracks
'View Frankie's songlist'

Frankie is a powerful singer with a rich and tuneful, warm sound with phrasing as cool as Frank Sinatra's.
Frankie is available to perform all over the United States and overseas at all kinds of events: Corporate, Public, Private Parties, Weddings, Birthdays, Openings, Launches etc. and is already taking bookings as far ahead as Christmas 2016.
If you wish to make an enquiry about Frankie Roma and / or to book him for your event, please contact us via email, phone or our enquiry page...